Distributed Ledger Technology Working Group
Purpose
This Working Group's primary objectives are to focus on the education and creation of thought leadership for ISSA members engaged in Digital Assets (DA) and Distributed Ledger Technology (DLT) and to create an early awareness of developments in this new market such as Decentralized Finance (DeFI) and Non-Fungible Tokens (NFT), including recommendations to ISSA members on how to approach it.
Scope / Key Deliverables
The nature of DA and DLT solutions are constantly evolving in an immature marketplace. The Working Group areas of focus include topics which would benefit from best practices, industry standardization and interoperability between participants. These topics span DLT, DA, Central Bank Digital Currencies (CBDC), Stablecoins, NFT and DeFi. They are selected by the relative priority of the participating organisations but are approached from a Securities Services perspective.
The current in scope topics are:
(1) Digital Asset Custody
The scope of the first paper is:
To undertake an assessment of Digital Asset Custody (DAC) which will include:
Setting out the existing global landscape
Mapping how DAC fits into the crypto and digital asset landscape
Understanding the main challenges and oppor­tunities faced
Assessing the different risks involved in DAC
Highlighting the direction of travel for the industry
Key Deliverables: Publish White Paper on DAC in conjunction with GDF and Deloitte.
(2) Podcast series on "ISSA Member Showcasing DLT Deployments
To continue creating / publishing the "ISSA Member Showcasing DLT Deployments" podcast series
Key Deliverables: Regular Podcasts on "DLT in the Real World" highlighting the successes (and challenges) of our members on deploying DLT solutions.
(3) 2023 DLT in the Real World Survey
To initiate and analyze the 2023 DLT in the Real World Survey with Value Exchange
Key Deliverables: A report summarizing the key findings from the 2023 survey and highlighting the key changes since 2022.
Publications
Podcasts / Articles / Videos
Reports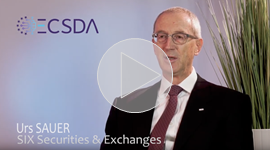 Working Group Co-Chairs
Steve Everett, TMX Group
Glen Fernandes, Euroclear
Executive Sponsor
Vivekanand Ramgopal, Tata Consultancy Services
Institutions Represented by Experts in the Working Group
Abu Dhabi Securities Exchange (ADX)
Accenture Plc
Acupay System LLC
Archax Holding Ltd.
B3 Brazilian Exchange and OTC
Banco Bilbao Vizcaya Argentaria S.A. (BBVA)
Banque Internationale à Luxembourg SA
BNP Paribas S.A.
Bolsa de Valores de Colombia BVC
Broadridge Financial Solutions
Brown Brothers Harriman & Co.
Bursa Malaysia Berhad
Central Securities Clearing System Plc
Citi
Cofinpro
Datos Insights
DBS Bank
Deposito Central de Valores (DCV)
Deutsche Bank AG
Deutsche Börse Group
ECSDA
Euroclear
Euronext Securities – Monte Titoli
European Central Securities Depositories Association ECSDA
FIS
Fnality International Limited
Grupo Bolsa Mexicana de Valores
HSBC Holding Plc
ISSA
Intesa Sanpaolo S.p.A.
JP Morgan Chase & Co.
KBC Group NV
KDD Central Securities Clearing Corporation
Korea Securities Depository KSD
Maroclear S.A.
Metaco SA
Myriad Group Technologies Ltd
Nasdaq Inc.
Northern Trust Corporation
NowCM
NSDL Group India
R3 LLC
Royal Bank of Canada
S&P Global / IHS Markit
SEB Group
Singapore Exchange Limited
Standard Chartered Bank
State Street Corporation
Strate (Pty) Ltd
SWIFT SCRL
Swiss Re Ltd
Tata Group
Taurus
The Bank of New York Mellon Corporation
The Depository Trust & Clearing Corporation
The Global Blockchain Business Council
The Investment Association
The Mauritius Commercial Bank Ltd.
The Standard Bank of South Africa
The Stock Exchange of Thailand
TMX Group Limited
U.S. Bank N.A.
UBS Grooup AG