Distributed Ledger Technology Working Group
Scope
The DLT Working Group has three subgroups:
Standards – with three streams of work:
Creation of an "asset definition" template for completion by "Standards Authorities" to compare and contrast offerings and upcoming deliveries of those "Standards Authorities" in respect of tokenized assets. A table will be published on the authorities' offerings on the ISSA website by September 2021
Working in coordination with the ISO 20022 Standards subgroup to define the "Process Standards required for Digital Asset Processing"
Review of ISO messaging gaps for DLT and Digital Asset Processing Models

Revision of the 2019 "Theory into Practice" Paper – including standard for publication later in the year

Central Bank Digital Currency (CBDC) and Stable Coins – The draft paper has been prepared after the Research Blocks completed and that is presently open for comment and editing for publishing in September 2021.
In addition to these focused Sub-Working Groups, the main Working Group makes presentations on DLT topics on a monthly basis to educate and inform all market participants who are members.

Working Group Co-Chairs
Urs Sauer, SIX Markets
Glen Fernandes, Euroclear
Milestones
Q3 2021: Asset Definition template launched
Q3 2021: Voice of Customer Survey bulletin published
Q3 2021: CBDC Paper published
Q4 2021: Publish revised «Theory into Practice» report
Bulletins
ISSA Article Tokenization, August 2019
Reports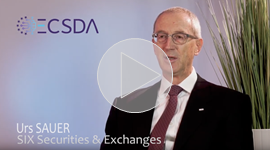 Institutions Represented by Experts in the Working Group
Abu Dhabi Securities Exchange
Accenture Plc
Acupay System LLC
Aite Novarica
Banque Internationale à Luxembourg
BNP Paribas Securities Services
BNY Mellon
BVC/DECEVAL Colombia
Broadridge Financial Solutions
Bursa Malaysia
Capco
CDS Canada/TMX
Citibank
Clearstream
Consensys AG
Credit Suisse
CSCS Nigeria
DCV Chile
Deutsche Bank
Deutsche Börse Group
DTCC
DZ Bank AG
Euroclear
FIS Global
Fnality International Limited
Global Blockchain Business Council
Hashstacs
HSBC Securities Services
IHS Markit
Indeval Mexico
Intesa Sanpaolo
ISSA
JPMorgan
KDD (Central Securities Clearing Corporation), Slovenia
KSD Korea
Maroclear
Mauritius Commercial Bank
Monte Titoli
Myriad Group Technologies
Nasdaq Nordics
Nivaura Ltd
NSD Russia
NSDL India
R3 LLC
Royal Bank of Canada
SEB
SIX Securities & Exchanges
SLIB
Standard Bank
Standard Chartered Bank
State Street Bank & Trust Company
Strate
SWIFT
Swiss Re
Tata Consulting Services
Thailand Stock Exchange / CSD of Thailand
TMX
UBS